A huge thanks to all who made epff8: Turning Points such a brilliant success!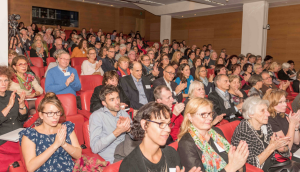 We hope you enjoyed the films and discussions this year – if you have any feedback, do let us know by emailing harriet.myles@iopa.org.uk.
Watch our highlights reel, with thanks to Clive Robinson
Downloads: click the list below for our epff8 posters, and the three talks on Turning Points from our panellists.
We publish here the three contributions offered by speakers who are prominent scholars in their own fields to the plenary Panel that opened epff8 on Friday morning. This event explored the significance of the idea of 'Turning Points' from three different perspectives: historical, psychoanalytic and cinematic. The main purpose of the Panel was to introduce some relevant concepts on the theme of the Festival and to set the tone to the discussions which followed the film screenings.
Click here to see the video that Laura Mulvey mentions in her talk.