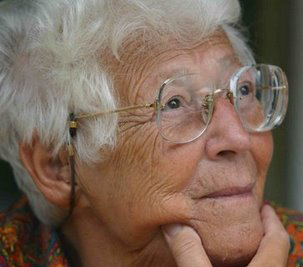 "It is when the world within us is destroyed, when it is dead and loveless, when our loved ones are in fragments, and we ourselves in helpless despair - it is then that we must recreate our world anew, reassemble the pieces, infuse life into dead fragments, recreate life."
Segal's influence was confirmed from an unexpected quarter when it was discovered that, unbeknown to her, this quotation from her paper 'A psychoanalytical approach to aesthetics' was used as a rallying call for the World Trade Center Mural Project. The project was set up following the terrorist attack of 11 September 2001 with the aim of creating a mural, 70 feet high, on the Equitable Building in New York as a symbol that life could survive destruction.
Early life
Hanna Segal was born Hanna Poznanska into a cultured family in Lodz Poland, in 1918. She grew up in Warsaw - her parents, as was the culture, often away traveling. The loss of her sister Wanda when she was two and a half and her sister four was a great blow. She commented that she was something of a lonely child at home and so very invested in school.
The family moved to Geneva when she was 13, which was an introduction for her to different cultures and political situations. At 16 she chose to go back to Poland to do the Polish matura. She read all the Freud she could and read widely beyond. The family, expelled from Geneva, went to Paris where she joined them in 1939. In 1940 they left for the United Kingdom and she went to Edinburgh to finish her medical studies.
Career and publications
Segal qualified as an analyst with the British Psychoanalytical Society in 1945 at the age of 27. Klein's ground breaking paper 'Notes on some schizoid mechanisms' was published in 1946 and Segal, who had her analysis with Klein, said of this paper that it was "a bombshell and yet familiar". Her immediate post qualification years were remarkable. She had her first child and wrote the two papers with which she laid the foundations of what she described as a "semiconscious plan" for the rest of her life.
The first, though published later, was, 'A psychoanalytic approach to aesthetics' and the second her membership paper on 'Some aspects of the analysis of a schizophrenic'. Here was the foundation of her two great interests: creativity and psychosis. Published originally in the International Journal of Psychoanalysis, these papers, and others written over a period of about 30 years, were finally brought together and published in Segal's first collection, The Work of Hanna Segal: Delusion and Artistic Creativity and other Psycho-analytic Essays (1986).
Segal's early years as a psychoanalyst also saw the publication of her first two books Introduction to the Work of Melanie Klein (1964) and Klein (1979). Betty Joseph has commented that Hanna Segal "understood Klein instinctively, not just because she had an analysis with Klein, but something deeper and more intelligent". In a long professional life devoted to practicing, teaching and writing about psychoanalysis Segal published a further three books, Dream, Phantasy and Art (1991), Psychoanalysis, Literature and War (1997) and Yesterday, Today and Tomorrow (2007).
Contrasting concepts
It is striking how frequently Segal writes about contrasting concepts. We see this for example in her seminal papers on symbols and symbolic equations, creativity and delusion, life and death instincts, phantasy and reality and in her last book she twinned the fall of Adam and Eve with the fall of Lucifer and voyeurism and curiosity. In all these papers we find her lifelong endeavor to explore the intricate relationship between creative and psychotic functioning. In the socio-political realm she further explored and clarified the relationship between sane and psychotic forces in relation to nuclear proliferation, war and the symbolic significance and psychological impact of September 11.
Segal, Herbert Rosenfeld, Wilfred Bion and Betty Joseph constitute a small group of major thinkers whose influence has remained central to the development of psychoanalysis. In the early days they met together in a small seminar held by Klein and John Steiner has described their early work as one of "pioneering optimism". Towards the end of her life, Segal was asked what she thought the future held for psychoanalysis and whilst her tone had changed from optimism to determination, she continued to highlight the central importance of paying attention to the power of the psychotic part of the personality - in the patient - in the mind of the analyst - and in the socio-political world. Segal died in 2011.
Nicola Abel-Hirsch 2012 – from the Melanie Klein Trust
Key publications
1964 Segal, H. Introduction to the Work of Melanie Klein. Heinemann; republished by Hogarth Press.
1979 Segal, H. Klein. Fontana.
1986 Segal, H. The Work of Hanna Segal: Delusion and Artistic Creativity and other Psycho-analytic Essays. Free Association Books.
1991 Segal, H. Dream, Phantasy and Art. Routledge.
1997 Segal, H. Psychoanalysis, Literature and War. Routledge.
2007 Segal, H. Yesterday, Today and Tomorrow. Routledge.
Links
Video: Excerpt from 'Meeting Hanna Segal', a film in the Encounters Through Generations series
Video: Clip from an interview filmed during Hanna Segal's last visit to Poland
Video: Trailer for the Hanna Segal Memorial Conference (2013)