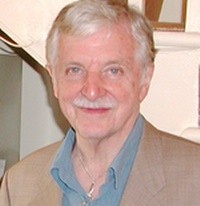 Ron Britton's work is characterised by his preoccupation with truth; with what is real, and how we know this. His answer follows Keats, 'nothing ever becomes real till it is experienced' and his contributions follow from this.
Britton is a training and supervising analyst with the British Psychoanalytical Society. He first trained as a doctor, and as a child psychiatrist was Chair of the Department of Children and Parents at the Tavistock Clinic, where he was involved in treatment of deprived children and their parents. This experience was influential to his psychoanalytic thinking where he maintains the importance of 'childhood' as a formative experience.
His psychoanalytic teachers and colleagues have been important. His theoretical background is that of Freud, Klein and post-Kleinians. Additionally, he brings his own wide interests, including philosophy, theology, science, and particularly, his passion for poetry, which he uses as a basis for psychological understanding. Arguably, it is from the last that his most original contribution was inspired, namely his psychoanalytic understanding of the source of inspiration; the imagination.
The importance of belief
Britton's major contributions have been drawn together in two books. In Belief and Imagination, (1998) he develops his ideas about truth and psychic reality. He proposes that it is belief that confers the status of reality on phantasies and ideas, which are then considered as facts. He considers belief to be a component of the epistemophilic instinct essential for life in the face of uncertainty. Beliefs are phantasies which are treated as psychic objects, and being emotionally invested they require mourning to be relinquished.
He distinguishes belief from knowledge, which it is often treated as, on the basis that a holder of a belief accepts the possibility of it being untrue. He proposes that knowing that one holds a belief, and is not in the presence of a fact, requires psychological development, namely the capacity to bring together subjective experience, with objective self-awareness so that one can see oneself believing. He suggests this requires the presence of triangular psychic space with a third position from which the subjective self can be observed having a relationship with the idea. This is required for reality testing and depends upon the toleration an internal version Oedipus complex.
The Oedipus complex and psychic reality
Throughout his work Britton emphasises, the Oedipus complex as the basis of psychic reality, and the clinical relevance of defences against awareness of this, including Oedipal illusions. However it is the particular understanding he brings of the important role the internal triangle, representing links between the child and parents, in the growth of knowledge and mental life that stands out as highly original.
These ideas, published in 'The Missing Link' (1989), were developed through his work with patients who feared catastrophe if they experienced a link between their parents. He suggests that as a consequence these patients cannot develop a prototype of an object relationship in which they are a witness and not a participant ie a third position. The clinical consequences are; patients who cannot tolerate objectivity, thin skinned syndrome, those who cannot tolerate subjectivity, thick skinned syndrome, or mixtures, supporting Rosenfeld's distinctions.
He explains this in terms of a primary failure of maternal containment where the good maternal object is preserved by projecting the experience of misunderstanding into a third object who personifies malignant misunderstanding. Like Bion, he implicates an innate factor, alongside maternal failure, called psychic atopia, a hypersensitivity to psychic differences, which he equates with – K.
The internal Oedipal triangle is also the stage on which Britton places the imagination. He views the imagination as a phantasised mental space which is truth-evading, or truth seeking, depending upon whether the underlying phantasy is wish fulfilling or reality seeking This poetic space contains a primal couple that remains unavailable to observation and can only be imagined. His studies of poetry give these ideas verification through their depth of understanding.
In Sex, Death, and the Superego he reappraises his theories in the light of clinical experience. Psychic reality, with the Oedipus complex at its core, remains his primary interest. He explores the function of Oedipal illusions through studies of hysteria and the female castration complex. Re-examining narcissism he supports the distinction between libidinal and destructive motives. Most significantly he re-examines the relationship between the ego and the superego and locates the third position of self observation within the ego, describing the struggle to maintain this in the face of superego figures that usurp authority through morality and terror. This underpins his important contribution to understanding publication anxiety.
David Simpson 2012 – Melanie Klein Trust
Video: The Originality of Melanie Klein – courtesy of the Melanie Klein Trust
Key publications
1989 Britton, R. 'The Missing Link: Parental Sexuality in the Oedipus Complex', J. Steiner (ed.) The Oedipus Complex Today: Clinical Implications. Karnac.
1992 Britton, R. 'The Oedipus Situation and the Depressive Position', R. Anderson (ed.) Clinical Lectures on Klein and Bion. Routledge.
1998 Britton, R. Belief and Imagination. Routledge.
2003 Britton, R. Sex, Death, and the Superego. Karnac.
2015 Britton, R. Between Mind and Brain: Models of the Mind and Models in the Mind. Karnac.