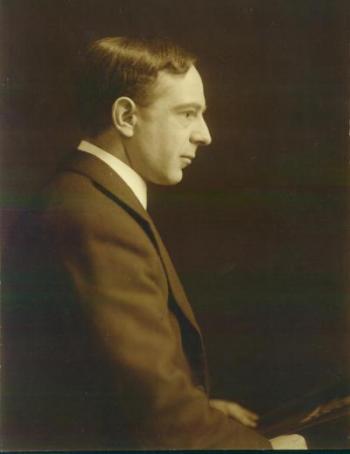 Alfred Ernest Jones was born in 1879, in Gowerton, Wales, and studied at Cardiff University and UCL.
He established both the British Psychoanalytical Society and the American Psychoanalytic Association, wrote a three-volume biography of Sigmund Freud, and played a key role in helping Sigmund and Anna Freud escape Nazi Austria, as well as numerous other continental analysts.
He also keenly encouraged the work of Melanie Klein, founded the International Journal of Psychoanalysis, and was President of the IPA twice. Although Jones' life was not without controversy, his inexhaustible efforts to expand, promote and protect psychoanalysis were an enormously important factor in its development and dissemination, particularly in the English-speaking world.
Jones read medicine at university, specialising initially in obstetrics and then in neurology. He soon became very interested in new developments in psychiatry and the "psychoanalytic" method emerging in Vienna and continental Europe. Jones started using hypnotic techniques in his clinical work with patients, following the example of Freud and Breuer. However, his career got off to a very bad start when, in 1906, he was charged with the indecent assault of two teenage girls he was treating. He was later acquitted in court. However, in a further incident Jones was made to resign from a job as a pathologist, after he made a psychoanalytic interpretation of a young child's paralysis without asking for her parents' consent. These events seriously damaged Jones' reputation, and in 1908 he left Europe and moved to Canada. He worked in the Psychiatry department at the University of Toronto, subsequently becoming Associate Professor of Psychiatry. His few years in North America were as productive and driven as any other period in his career; in 1911, he established the American Psychoanalytical Association, and in 1912 he published the first psychoanalytic work in the English language, Papers on PsychoAnalysis.
In 1908, before leaving for Canada, Jones had had his first direct contact with a key figure in psychoanalysis, Carl Jung. He and Jung had organised the first Psychoanalytical Congress in Salzburg, and it was there that Jones met Freud for the first time, quickly striking up what was to be an enduring – if not always straightforward – professional and personal relationship. After several years in Canada, Jones went briefly into analysis with Ferenczi in Budapest, and then in 1913 returned to London. Soon after his return Jones set up his psychoanalytic practice and founded the London Psychoanalytical Society, meanwhile continuing to write and lecture on psychoanalytic theory. Jones' Society disbanded after the First World War, but he quickly re-established it in 1919, as the British Psychoanalytical Society. Within a few years he also set up a psychoanalytic clinic offering analytic treatment at low rates for those on small incomes, and, along with John Rickman, created the Institute of Psychoanalysis, the training and administrative arm of the BPAS. The same year Jones married Katherine Jokl, his first wife having died after only a year and a half of marriage. They went on to have four children together.
Jones continued to work hard and tirelessly to promote psychoanalysis. In 1920 he founded the International Journal of Psychoanalysis, serving as its editor until 1939. In 1921 he established the International Psychoanalytic Library, and either translated or arranged the translation into English of as many psychoanalytic works as possible. In 1924 the first two volumes of Freud's Collected Papers, was published in translations edited by Jones and supervised by Joan Riviere. In large part the result of a long and dogged campaign by him, in 1929 the British Medical Association officially recognised psychoanalysis as, 'a serious branch of science'. In a further effort to spread and entrench psychoanalytic ideas, in the 1930s Jones and some of his colleagues made a series of radio broadcasts.
Jones had been impressed by Melanie Klein since he first discovered her work, and his own writing became increasingly influenced by her ideas and developments. Following her lead, he began to explore early psychic development, particularly the development of the superego and the nature of the female castration complex. He originated the term "phallocentrism", and argued alongside Klein and Karen Horney for the idea of a primary femininity. In reformulating Freud's concept of the castration complex, Jones also introduced the idea of "aphanisis" referring to a fear of, "the permanent extinction of the capacity (including opportunity) for sexual enjoyment". The first use of the term "rationalisation" was also by Jones.
In 1925 Jones invited Melanie Klein to give a number of lectures in London, and afterward suggested she move permanently to England and join the British Society. Klein accepted this offer, and over the ensuing years attracted numerous and committed followers. Jones' enthusiasm for her was far from universal, however. As Hitler's power grew in Germany and beyond, he helped many Viennese and other continental analysts (a number of whom were Jewish) to resettle in England. After the Anschluss in 1938, Jones went himself to Vienna to orchestrate Sigmund and Anna Freud's escape to Britain. With the influx of a large number of European analysts, there arose a fierce clash of ideas between the so-called Kleinians and Freudians. This intellectual and ideological conflict led to deep division in the British Society. Jones always sided with Klein's views, as opposed to those of Anna Freud and her colleagues, and this clear partiality caused Sigmund Freud angrily to accuse Jones of trying to discredit his daughter's work. The mounting hostility between the Freudian and Kleinian factions led, in the early 1940s, to the Controversial Discussions. Jones' role in these very heated debates diminished somewhat as his health began to suffer, and he spent more time at his home in Sussex. He resigned from the Presidency of the British Society in 1944. In that year the warring groups in the Society at last reached a compromise, which had the Freudians, Kleinians, and a third group of "Independents", administer and teach their own training programmes.
In his latter years Jones wrote a three-volume biography of Freud, with considerable help from his German-speaking wife, who translated many of Freud's letters and documents. Jones was made a Fellow of the Royal College of Physicians in 1942, Honorary President of the International Psychoanalytical Association in 1949, and was awarded an Honorary D.Sc. degree from Swansea University in 1954. He died in London on 11th February 1958, and cremated at Golders Green Crematorium. His ashes were taken for burial in Wales, on his beloved Gower Peninsular.
Eleanor Sawbridge Burton 2015