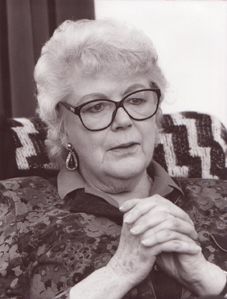 Nina Coltart was born in London in 1927, the elder daughter of a GP.  
Both her parents died in an accident when she was twelve.   She read Modern Languages at Somerville College, Oxford, but by the time she graduated had decided that she wanted to follow the family tradition and to train as a doctor.   She qualified in 1957 at St Bartholomew's Hospital.    After several clinical jobs, in 1961 she set up in private practice as a psychotherapist, concurrently training as a psychoanalyst with the British Psychoanalytical Society.   She qualified in 1964.
She continued to work as both a psychoanalyst and a psychotherapist throughout her career and built up an extensive consultation and referral service, concentrating on diagnosis and assessment for analytical therapy and for psychoanalysis.   She became immensely experienced in this field, calculating in the late '80's that she had seen well over three thousand people in consultation.   It is in this context that many people seeking help, analysts, students in training, and psychotherapists from a wide variety of trainings came to know and value her clinical acumen, incisiveness and reliability.   From 1972-82 she was Director of the London Clinic, which interviews and assesses potential training cases for students of the British Society.   She became a training analyst in the Independent Group in 1971, and was Vice-President of the British Society and Chairman of its Board and Council from 1984-87.   She retired in 1994.
She taught extensively for the British Society on a series of courses, especially those concerned with questions of assessment and analysability; it is a pity that her projected book on this topic never came to fruition, but she wrote several articles about it.   She continued throughout her career to teach on and to help to administer various psychotherapy trainings, to lecture and teach in Stockholm, the United States and Australia, and to give talks to a wide variety of political and religious bodies, some of which were connected with her commitment to Buddhism and the practice of meditation.
She came late to publishing.   She published a few papers, mostly in psychotherapy journals, and three books.   Slouching toward Bethlehem; and Further Psychoanalytic Explorations, Free Association Books, 1992; How to Survive as a Psychotherapist, Sheldon Press,1993, and The Baby and the Bathwater, Karnac, 1996.   The first and the last are made up of those of her talks and papers which she wanted to preserve.
All three books are written in a clear, lively, personal style which is as readily accessible to lay people as it is to professionals, though the former may not realize quite how skilfully psychoanalytic thinking is being conveyed and conventional wisdom challenged. All of them are an excellent starting-point for people who want to find something out about psychoanalysis and psychotherapy, since they are written without pretension or jargon.  
How to Survive is a short book of invaluable advice, practical and personal, for students beginning to train as therapists.   Here is someone who can both acknowledge how difficult the task we set ourselves is, but also how constantly we need to be challenged and made thoughtful about what does and doesn't seem to work.  She stresses the need for the therapist to free him or herself from shibboleths of various kinds to achieve the inner freedom that we need for our task.
 In all three books, her vivid accounts of patients remind us over and over again of how respectful we need to be of their different approaches to life and to therapy, and of how often we need to be satisfied with limited gains.   She was exceptionally courageous in acknowledging how sometimes, despite skilled and hard work, our patients' pathology is too great to allow us much success.   'The analysis of an elderly patient', Chapter 10 of Slouching Towards Bethlehem, is a good example.  
The patient and the work are vividly described, but several general issues are also raised: the value of accurate and careful, but necessarily shifting, reconstruction of a patient's psychic life; the need to wait for the patient to have reached a point where both he and his analyst can see a step further along the path; the possibly inherent limitations on analysis with an elderly patient; and the place of an analyst's authentic and unmediated response, which is not to be recommended but can sometimes resolve an impasse.   At the same time, much of her writing conveys how engrossing the whole process is, and how privileged we are spend our days learning about the human comedy. 
By Susan Budd 2015