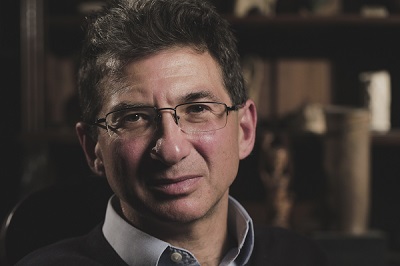 Daniel Pick is a psychoanalyst in the British Psychoanalytical Society and a professor of history at the University of London. Alongside his clinical practice, he teaches and conducts research in Birkbeck's Department of History, Classics and Archaeology, collaborating with colleagues in several other departments. He has lectured widely in the UK and abroad.
Already familiar with some key psychoanalytic ideas, Pick encountered them in a new context whilst studying English as an undergraduate at Cambridge. At that time, psychoanalytic concepts played an important role within textual criticism, film theory and philosophy, all of which he found fascinating. Along with his interest in Freud and the British object-relations tradition, he found himself reading about French psychoanalysis and Lacanian approaches, and their fruitful connections to post-structuralist ideas. At Cambridge he and fellow students read Barthes, Derrida, Kristeva and Foucault, alongside the English curriculum. After completing his BA and a short period working in Rome, which kindled his interest in Italian cultural and intellectual history, he returned to Cambridge to complete a PhD. His thesis was on theories of degeneration in nineteenth-century political thought, culture and the human sciences (subsequently published as Faces of Degeneration: A European Disorder, c. 1848-1918, in the CUP Ideas in Context series).
In his twenties, whilst a doctoral student and research fellow at Cambridge, Pick worked for a period weekly as an adult education tutor in the prison system. His experiences there added to his interest in unconscious attitudes to crime, punishment and the role of the superego. In the late 1980s and early '90s, Pick gained clinical experience in a hospital setting, in student counselling and through psychiatric ward rounds, before embarking on a course on the foundations of psychodynamic psychotherapy at the Tavistock Clinic. He began the IoPA's analytic training in 1995, qualifying in 2000 and becoming a fellow of the British Psychoanalytical Society a few years later.
Alongside his clinical and academic work, Pick has been on several editorial boards, including History Workshop Journal, Psychoanalysis and History, and The New Library of Psychoanalysis. He has also worked extensively across other media, presenting programmes for BBC Radio on subjects such as Freud for our times, psychological profiling, and the psychological roots of violent extremism. He has acted as historical consultant on programmes including In Search of Ourselves (2014), a 25-part Radio 4 series that explored ideas of the mind, identity, and therapy. Pick is currently leading a Wellcome Trust-supported research project called, 'Hidden Persuaders: Brainwashing, Culture, Clinical Knowledge and the Cold War Human Sciences, c. 1950-1990', and is working on a book which will explore, from psychoanalytic and historical perspectives, modern fears about mind control. He will examine cultural anxieties about brainwashing through a cross-disciplinary lens, incorporating historical, psychoanalytic, psychosocial and philosophical lines of enquiry.
Psychoanalysis: A Very Short Introduction, part of a series published by Oxford University Press and aimed at the general reader, typifies Pick's ability to communicate complex psychoanalytic ideas to a non-specialist audience. It is an engaging account of the 'talking cure' and its history, offering a brief yet illuminating glimpse into the developments, controversies and conceptual diversity of this unique discipline. One of its central concerns is to convey the consequences of Freud's remarkable invention of the psychoanalytic consulting room, and the boundaried time of the session. The book makes a robust case for the clinical usefulness of psychoanalysis and the fascinating ways in which it enables us to think about our minds. For Pick, the experience of being in the analytic session remains by turns challenging, surprising and moving. He has written about how, as a psychoanalyst, being thrown back on states of uncertainty is both inevitable and integral to clinical work, as is the continual questioning of what is happening, both in one's own mind and in that of the patient. He sees it as the analyst's work to help patients find expression for inchoate feelings, to bear with and give thought to what may seem unthinkable, and to find a language through which to examine and, sometimes, rework the stories we tell ourselves, thus facilitating change.
As both psychoanalyst and historian, Pick is constantly engaged with the question of how the past bears upon the present: whether a history is a personal one, or a national or cultural one, it at once shapes us and is shaped by us in its telling. Several of his essays and books in cultural history, such as Svengali's Web: The Alien Enchanter in Modern Culture and Rome or Death: The Obsessions of General Garibaldi, draw upon psychoanalytic thought in exploring real and mythical characters, and the web of fantasies in which they are caught. He acknowledges that, in psychoanalysis as in history, one must remain attentive to and curious about the framework within which we operate, and the terms under which narratives are produced.
In his academic as well as his clinical work, Pick has been profoundly influenced by Freud, Klein, Bion, and contemporary Kleinian thinkers in London, as well as by a number of other clinicians, writers and theorists from various schools of thought, in the UK and abroad. He has written about analytic theory historically, but analytic theory has also informed Pick's historical investigations into the interaction of individuals and groups, the struggle for and against freedom of mind, and the many guises assumed by anxiety in psychic social life. He has a long-standing interest in the history of psychoanalysis and other 'psy' disciplines, and in the relationship between psychoanalysis and the humanities. He once wrote a paper that sought to consider historically and methodologically the reasons for most British historians' lack of engagement with psychoanalytic ideas. In a recent co-written essay and editorial collaboration with the historian Catherine Hall in History Workshop Journal (Autumn 2017), he explored the uses of the psychoanalytic ideas of 'denial' in individuals, institutions and collective processes.
Eleanor Sawbridge Burton 2017
 
Key publications
2017. Pick D, and Hall C. Thinking about Denial (feature series and essay). History Workshop Journal, 84.
2016. Pick, D. and ffytche, M. (ed.). Psychoanalysis in the Age of Totalitarianism. Routledge.
2015. Pick, D. Psychoanalysis: A Very Short Introduction. Oxford University Press.
2012. Pick, D. The Pursuit of the Nazi Mind: Hitler, Hess, and the Analysts. Oxford University Press.
2010. Pick, D. Psychoanalysis, History and National Culture. In Feldman, D. and Lawrence, J. (ed.) Structures and Transformations. Cambridge University Press. 210-236.
2008. Pick, D. and Rustin, M. Part One: Introduction to Quentin Skinner: Interpretation in Psychoanalysis and History. International Journal of Psycho-Analysis, 89(3):637-645.
2007. Pick, D. Dreams in Contemporary Psychoanalysis. In Monem, N. (ed.) Sleeping and Dreaming. Black Dog Publishing.
2004. Pick, D. and Roper, L. (Ed). Dreams and History: The Interpretation of Dreams from Ancient Greece to Modern Psychoanalysis.
Radio and other media
Speaker . PPNOW  2017: Free Associations? Psychoanalytic history, democracy and the state we are in.  British Psychoanalytic Council (2017)
Co-editor. Hidden Persuaders: http://www.bbk.ac.uk/hiddenpersuaders/. Birkbeck.
Presenter. Dictators on the Couch. BBC Radio 4 (10 June 2017).
Presenter. Freud for our Times. BBC Radio 4 (December 2016).
Presenter. Brainwash Culture. BBC Radio 3 (13 March 2016).
Presenter. Introducing Psychoanalysis. Podcast series. Oxford University Press (2015).
Presenter. The Roots of Extremism. BBC Radio 4 (March 2014).
Presenter. The Psychiatrist and the Deputy Führer. BBC Radio 4 (9 April 2012)
Interviews with Hanna Segal (2001) and Betty Joseph (2006), conducted for the Melanie Klein Trust with Jane Milton. (Transcripts can be downloaded here).
The id comes to Bloomsbury. The Guardian (16 August 2003).
Click here for Pick's publications on Pep-Web
Click here to read about Daniel Pick at Birkbeck