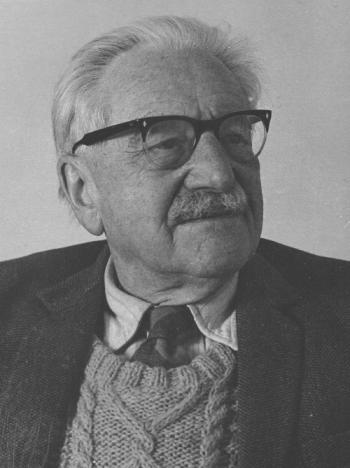 Roger Ernle Money-Kyrle was a highly renowned and influential psychoanalyst with a background in philosophy and a wide-ranging intellect.
His work in psychoanalysis was characterised by its breadth of scope, as well as its continuity with previous developments in psychoanalysis. His writing emerged as much from his deep thinking about philosophy, ethics and politics as from his clinical practice; it remains a rich psychoanalytic exploration of both the individual's inner life, and the ways in which the individual psyche relates to the broader sphere of human society. Among Money-Kyrle's analysands was Kleinian analyst Edna O'Shaughnessy, and he went on to influence many other major thinkers, notably Donald Meltzer and John Steiner.
Early years and WW1
Money-Kyrle was born in Hertfordshire, on 31st January 1898, the fourth and final child of army Major Audley Walter Money-Kyrle and Florence Cecilia Smith-Bosanquet. He had two older sisters, as well as a brother who died of spina bifida at the age of four, before Roger was born. In keeping with the expectations and traditions of his upper-class family, he was sent away to school, to Eton, at the age of ten. Although he had been ill for a period before going to school, and so had fallen behind academically, Money-Kyrle was an inquiring, inventive, thoughtful boy, who liked building things and experimenting with materials. It was at this time that he discovered and developed a huge admiration for Einstein. While at Eton, his father died suddenly. His mother would never remarry.
In 1916, in the middle of the First World War, Money-Kyrle (only eighteen years old) enlisted with the Royal Flying Corps. It was during an engine course in Oxford that he first met his future wife, anthropologist Helen Juliet Rachel Fox. His first sight of her was as she skated on the frozen meadows with a group of Oxford dons. Money-Kyrle was posted to the Western Front, and in 1917 his plane was shot down in northern France. He was saved from engaging in further action by the war's eventual end in 1918.
Discovering psychoanalysis
Immediately after demobilization Money-Kyrle went to Trinity College, Cambridge to begin a degree in maths and physics. However, he soon realised that his talent for physics was not as great as he had hoped. He was already interested in philosophy, so decided to study that, and also became very intrigued by a still new and rather niche discipline called 'psycho-analysis'. Money-Kyrle started seeing a psychotherapist recommended by a fellow student, and left Cambridge for London around 1919, to go into analysis with Ernest Jones. He was very secretive about it, and worked in a bank to disguise the real reason for leaving Cambridge. He went back to university briefly to complete his BA, before making a visit to Vienna where, at Jones' arrangement, he was to continue his analysis with Sigmund Freud. In 1922, before moving out to Vienna properly, Money-Kyrle met Helen Fox again, and very soon they were married.
Roger and Helen moved to Vienna, where they settled in easily – and where they were surrounded by other English people having secret analyses. The couple lived there for three years, during which time Money-Kyrle wrote a PhD under the supervision of philosophy professor Moritz Schlick. He called his thesis, Contribution to the Theory of Reality (1925), and later described it as psychoanalysis disguised as philosophy. While in Vienna, Helen gave birth to their first son. The three of them returned to England in 1925, and Money-Kyrle decided to begin another PhD at University College London, this time on a much more overtly psychoanalytic topic. He studied with influential psychologist and psychoanalyst John Carl Flügel, and his thesis, finished in 1928, was called 'The Meaning of Sacrifice'. On the back of this first psychoanalytic work, Money-Kyrle was elected a Fellow of the Royal Anthropological Institute and an Associate Member of the British Psychoanalytical Society.
Analysis with Klein and research in post-Nazi Germany
The Money-Kyrles spent most of their time at the family home in Calne, Wiltshire, but in the mid 1930s John Rickman persuaded Money-Kyrle to start an analysis with Melanie Klein in London. He continued the analysis throughout the Second World War, and wrote analytic papers alongside his work for the Air Ministry. He produced numerous books and papers linking psychoanalytic theory to wider socio-political concerns, moral problems and philosophical ideas, and this broad, interdisciplinary approach characterised his work as an analyst. He became a full Member of the BPAS in 1945.
After the end of the war, in 1946, Money-Kyrle spent six months in Germany working for the German Personnel Research Branch, whose purpose was to find suitable individuals to govern Germany following the collapse of the Third Reich. A few years later he wrote a paper based on this experience, called 'Some Aspects of State and Character in Germany' (1951), in which he delineates two distinct character types he encountered: the 'authoritarian' character, by far the most common, for whom obsessive obedience to the prevailing regime is paramount; and the rarer 'humanist' type, who retains a much stronger sense of morality and compassion, and so a greater recognition of the evils of a tyrannical social order. Money-Kyrle described these types with reference to Klein's conception of two different kinds of anxiety; the authoritarians' suffering far more from persecutory anxiety, and the humanists from depressive anxiety.
The individual, society and war
Money-Kyrle lived through two catastrophically destructive wars, and over his career he wrote numerous papers about conflict, political power and the human urge for violence. In the years preceding the Second World War, Money-Kyrle wrote an essay, 'A Psychological Analysis of the Causes of War', published in 1934 in The Listener. In it he explored the roots of conflict in the neuroses and psychopathology of the individual. Suggesting that he was all too aware of the implications of growing extremism across Europe, he wrote:
'The study of cases of melancholia, paranoia, and homicidal mania helps us to recognize psychological mechanisms which are present, to some slight extent, in all of us. These mechanisms may not greatly influence us as individuals; but they sometimes have a great influence on us as members of a state.'
Again, in 1937, he wrote about conflict in, 'The Development of War', where he observed that, '[W]e are like people who go about without knowing that their pockets are full of dynamite.' His alertness to the potential within the individual psyche to give rise to devastating social events was a constant thread through his thinking and writing.
As an analysand, friend and follower of Melanie Klein, Money-Kyrle edited the special issue of the International Journal of Psychoanalysis, celebrating her seventieth birthday in 1952. He also co-edited New Directions in Psychoanalysis (1955) with Klein and Paula Heimann, an important statement of the thinking of the Kleinian school.
He died on 29th July 1980. His archive is held by the Wellcome Trust in London.
Eleanor Sawbridge Burton, 2016
Courtesy of the Melanie Klein Trust
Key works:
1941 Money-Kyrle, R. 'The Psychology of Propaganda'. In Meltzer, D. and O'Shaughnessy, E. (ed.) The Collected Papers of Roger Money-Kyrle. Clunie Press.
1951 Money-Kyrle, R. Psychoanalysis and Politics: a Contribution to the Psychology of Politics and Morals. Duckworth.
1961 Money-Kyrle, R. Man's Picture of His World: A Psycho-analytic Study. International Universities Press.
1965 Money-Kyrle, R. 'Success and Failure in Mental Maturations'. In The Collected Papers of Roger Money-Kyrle (above).
1968 Money-Kyrle, R. 'Cognitive Development'. In The Collected Papers of Roger Money-Kyrle (above).
1971 Money-Kyrle, R. 'The Aim of Psychoanalysis'. In The Collected Papers of Roger Money-Kyrle (above).