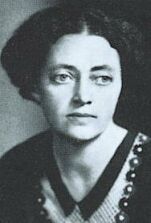 Marjorie Brierley was one of the indigenous members of the British Psychoanalytical Society and made a significant contribution to the development of psychoanalysis both in her writings as well as the key role she played in the Controversial Discussions (King & Steiner 1992).
After receiving a 1st class honours degree in psychology she studied medicine and qualified in 1928. Alongside her medical training she followed the analytic training and was in analysis with J. C. Flugel for two years followed by Edward Glover for a subsequent two years. She was 'passed for practice' in 1929. By 1930 she had become a Full Member of the British Psychoanalytical Society (equivalent to Fellowship today), and in 1933 she became a Training and Supervising Analyst. According to John Bowlby, who knew Marjorie Brierley, she was 'small and slight, with an extremely lined face. She spoke in a small and hesitant voice. Her mind was acute…and she probably had a better grasp of scientific principles than anyone else' (King & Steiner 1992 p. x).
Marjorie Brierley's work – in her scientific papers and her contributions to the Controversial Discussions - reflects a turning point in the evolution of psychoanalysis. Melanie Klein had settled in London in 1926 and her psychoanalytic innovations were well received by the majority of analysts. Marjorie Brierley's early papers illustrate how Klein's ideas on female sexuality influenced her. In the 1930s, however, tensions were rising between London and Vienna because several of Klein's developing concepts were seen to negate Classical Freudian theory. Internal objects and object relations were gradually becoming more central in psychoanalytic theory and taking precedence over the hitherto centrality of Freudian instinct theory. So that by the time Sigmund Freud and his daughter Anna Freud arrived in London, in 1938, a scientific crisis was coming to a head. Scientific meetings had become acrimonious and personal and by the early years of WW2 the British Society was about to divide.
Due to Dr Brierley's exemplary scientific approach and desire to discuss differences in an atmosphere of scientific neutrality she suggested a series of scientific discussions that have come to be known as the 'Controversial Discussions'. It is quite possible, that without Brierley's specific intervention, along with her persistent and consistent call for open theoretical examination, the history of the British Society may have been entirely different.
Marjorie Brierley presented 13 papers to the Scientific Meetings of the Society over a period of 12 years (1932 – 1944). 11 of these were published in the International Journal of Psychoanalysis. In 1932 she presented, 'Some problems of integration in Women', followed by her second paper,  'Specific Determinants in Feminine Development' in 1936. Both illustrate Klein's influence on her ideas. Brierley's most celebrated paper, 'Affects in Theory and Practice,' was presented in 1936 and published in the IJP in 1937. In 1939, the year she suggested a series of scientific discussions to address the developing differences between the Kleinian development and Classical Freudian theory, she published 'On internalized objects and depression' followed by three subsequent papers, 'Internal Objects and theory' (1942), 'Theory, Practice and Public Relations' (1943), 'Notes on Metapsychology as Process Theory' (1944) and  'Further Notes on the implications of Psychoanalysis: Metapsychology and Personology' (1945). Each paper reflects her meticulous scientific approach to the controversial concepts of that era.
After her retirement from analytic practice in 1944, in her role as an assistant editor for the International Journal, she wrote fifty-seven book reviews and twenty-four abstracts (Hayman 1986). Trends in psychoanalysis is a volume of her selected scientific papers published in 1951. Her final paper, commissioned for the 50th edition of the International Journal by Joseph Sandler, Chief Editor at that time, was published in 1969 and she entitled it 'Hardy perennials and psychoanalysis'. In this final paper she navigates carefully around the controversial concept of the death instinct and retains a neutral position. However, she asserts that aggression is one of the biggest problems in human nature and in her last sentence she concludes, 'Control of aggression by finding uses for it is more rewarding than panic suppression' (Brierley 1969).
Riccardo Steiner has recently praised Brierley's Memorandum on technique in 1943, written for one of the meetings during the Controversial Discussions, as one of the 'hidden gems of the Controversies' (Steiner 2014 p. 15). He highlights that Brierley had 'an extremely flexible approach' to the clinical situation through suggesting the application of different techniques and theories depending on each patient's psychopathology. Following André Green, who asserted that Brierley advanced the concept of affects, Abram has recently suggested that Brierley's emphasis on the analyst's need to follow the 'Ariadne thread of transference affect' anticipated the concept of countertransference and Winnicott's concept of the environment-individual set-up.
Jan Abram 2015