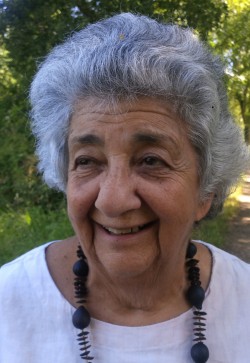 Irma Brenman Pick was a Distinguished Fellow, Supervising and Training Analyst and former President of the British Psychoanalytical Society.
She was born and raised in South Africa, and graduated with distinction from the Social Science Faculty at the University of the Witwatersrand in Johannesburg, where she had a brief involvement in radical student politics. Her early academic promise brought a prestigious award as the best student in her year. 
These were the years when the apartheid government was gradually tightening its grip on the country and in 1955 she and her husband, Dr Abe Pick, travelled to London to train as psychoanalysts; he died six years later, just after qualifying and just one year after the birth of their son.
In 1975 she married Dr Eric Brenman (died 2012), also a Distinguished Member, Supervising and Training Analyst and past President of the British Psychoanalytical Society, and author of The Recovery of the Lost Good Object(2006). They influenced each other as psychoanalysts and their professional collaboration extended to teaching in many countries abroad, including Australia, Brazil, Germany, Italy, India, Israel, and Scandinavia, as well as in Los Angeles, New York and Seattle.
Training at the Tavistock and the Institute of Psychoanalysis
In 1956 Brenman Pick proceeded to the Tavistock Clinic to do the child psychotherapy training. "When I came on the scene," she says, "it was still startling for many people to think that a baby could actually make a relationship with its mother." The Clinic was abuzz with the challenge of opening up this new frontier and the exploration of the notion that unconscious phantasy is constantly at work. She found herself immersed in a world where ideas about the unconscious minds of infants, which we now take for granted, were being forged. Intellectually and culturally, this was a very different scene to the one she had left behind, and she relished it. 
Having completed the Tavistock training in 1960, she went on to the Institute of Psychoanalysis, where she undertook both adult and child trainings. Her analyst was Dr Hans Thorner, whose kindness and compassion, especially following the death of her first husband, made a deep impression on her. An ability to empathise with, and feel compassion for, patients' struggles is a striking aspect of her own approach as an analyst.
Her impressive roll call of supervisors clearly played a part in honing her skills. They included, during and after the Tavistock and Institute trainings, Esther Bick, Wilfred Bion, Paula Heimann, Betty Joseph, Isabel Menzies Lyth, Herbert Rosenfeld and Hanna Segal. They instilled in her a rigorous way of working with aspects of the patient's early experiences that are alive in the here-and-now of the transference and countertransference.
A focus on countertransference
Brenman Pick was known among her colleagues as a psychoanalyst with a fine clinical intuition, coupled with a distinctive, lively and clear way of formulating from material, and for engaging with patients in a deep, multi-layered and nuanced way.
While she was influenced by her supervisors, it is also apparent that she had taken things forward in her own way. For example, she had a gift for recognising in patients' material, deeply disturbed, very early ways of relating to the analyst, and has a characteristic way of describing what is going on, using the language of ordinary human interaction, which makes her formulations clear and readily accessible. 
She had for many years run a post graduate seminar, whose members appreciated her knack for putting herself in the shoes of patients and considering how they might experience the analyst's attempts to work with and reach them. This comes out most clearly in her best-known paper, 'Working through in the countertransference' (1985), where she stresses the need for the analyst not only to receive projections, but also to do her own internal psychic work, and to consider how such projections from the patient interact with the analyst's own internal world. This task is necessarily complex, but without it, she believes, analysts are in danger of commenting in a mechanical way on projective and introjective processes. The analyst's love for the work and concern for the patient may be expressed in this process.
For Brenman Pick, this particular focus on countertransference allows for a deeper response to the patient's real need to feel understood. Once this process is underway, it becomes possible to explore whether, and if so, how, the patient perceives this care on the part of the analyst. She often stresses the need to hold the patient with two hands; to acknowledge both vulnerability and destructiveness.
Contribution to the psychoanalytic profession
Brenman Pick has served psychoanalysis in many capacities. In the British Society she was a sought-after training analyst and supervisor of several decades standing; she has served on various committees, including being Chair of of the Student Progress and Education Committees and of the International Psychoanalytical Association's Committee on Psychoanalytic Education. She was also a teacher and seminar leader, including on-going postgraduate seminars. She has published and presented a number of papers over the years, many of which are rich in clinical detail – for example her discussions of the complexities of adolescence. A collection of her papers is currently in preparation. 
Fakhry Davids 2014 – Melanie Klein Trust
Key publications
1967  Pick, I. 'On stealing: Clinical notes on three adolescent boys'. Journal of Child Psychotherapy. 2:67-79.
1985  Pick, I.B. 'Breakdown in communication: On finding the child in the analysis of an adult'.Psychoanalytic Psychothererapy. 1:57-62.
1985  Pick, I.B. 'Male sexuality: A clinical study of forces that impede development'. International Journal of Psychoanalysis. 66:415-422.
1985 Pick, I.B. 'Working through in the countertransference'. International Journal of Psychoanalysis. 66:157-166.
1988  Pick, I.B. 'Adolescence: its impact on patient and analyst'. International Review of Psychoanalysis. 15:187-194.
1989  Pick, I.B. 'Perlaboration du contre-transfert'. Revue Belge de Psychanalyse. 14:63-78.
1992  Pick, I.B. 'The emergence of early object relations in the psychoanalytic setting'. In Anderson, R. (ed). Clinical Lectures in Klein and Bion.  New Library of Psychoanalysis, 14. London: Routledge (pp 24-33).
1995  Pick, I.B. 'Analysing real issues in the analysand's life'. Scandanavian Psychoanalytic Review. 18:131-145.
1995  Pick, I.B. 'Concern: spurious or real?' International Journals of Psychoanalysis. 76:257-270.