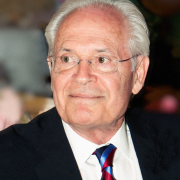 Donald Campbell is a training and supervising analyst and Distinguished Fellow of the British Psychoanalytical Society (BPAS). He was President of the BPAS from 1999 to 2003, and Secretary General of the IPA from 2003 to 2005.
Alongside his private practice, a major element in his career has been his work as a child and adult psychoanalytic psychotherapist at the Portman Clinic in London, a National Health Service outpatient facility where he served as Chairman between 1991 and 1994. For eight years early in his career, he also worked at the Brent Consultation Centre (BCC; now the Brent Centre for Young People). He has taught, supervised and given papers in over 50 cities in Europe, Australia and the United States.  His 60 journal articles and book chapters have enquired into such subjects as violent behaviour in adolescents and adults, aggression, delinquency, the role of the father in pre-suicidal states of mind, fetishism, splitting of the ego, sexual abuse, adolescent development, doubt, perversion, and horror film monsters.
Campbell was born in the US, and moved to London to train as a child psychotherapist at the Anna Freud Centre (AFC; formerly the Hampstead Child Psychotherapy Course and Clinic). After completing the AFC training, he started the adult training at the Institute of Psychoanalysis (IoPA) and, in his first year there, started working at the Portman Clinic, where he assessed and treated in psychoanalytic psychotherapy violent and delinquent patients and those suffering from a perversion.  His work at the Portman – which would span the next three decades – had a profound impact on his thinking and clinical practice, as did another analyst working there: Mervin Glasser.
Having gained his foundational psychoanalytic experience at the AFC, Campbell chose two Independent analysts to supervise his IoPA training cases, and has since also been supervised by Kleinian analysts. This engagement with different schools of thought exemplifies his pluralistic attitude.  His AFC training equipped him with a grasp of child development.  Anna Freud's book, The Ego and the Mechanisms of Defence (1937), tapped into a long-held curiosity about the nature and function of character traits, symptoms, defences and relationships. Moses and Egle Laufer's approach at the BCC informed his developmental perspective on adolescents. The work of Anne-Marie and Joseph Sandler provided him with a conflict-based understanding of pathology. Ever since his early days at the Portman and Brent, he has been interested in treating and thinking about conflict, aggression, violence, sexuality and perversion.
At the Portman, Campbell was influenced by Mervin Glasser's concept of the 'core complex', which describes a universal process taking place within an infant's mind and throughout the life cycle as the human subject moves away from mother toward independence, only to be pulled back by anxieties about loss of the object and its own death. This return to mother – a merging with the object – in turn generates anxieties about engulfment and loss of self-identity, which triggers a repeat of the cycle and propels a movement away from mother. In Glasser's theory, this dynamic is at work constantly within the infant, and provokes two types of self-protective aggression - ruthless and sadistic – as a means of negotiating the annihilating anxieties of abandonment and engulfment associated with the core complex..
Another central focus of Campbell's thinking is the body. He has written about the figure of the monster in horror films, in particular its appeal to adolescents, whose own bodies and minds are undergoing such anxiety-provoking transformations. He describes how the 'body horror' of some of these films is an expression of deep-seated fears about the maturing body as a monstrous presence. In line with his interest in cinema, while president of the BPAS, he asked analyst Andrea Sabbadini to organise a film festival, which became the European Psychoanalytic Film Festival (epff). Campbell has contributed several  papers to these festivals and, separately, has written about the 2004 film Bullet Boy, and its depiction of violence, adolescent gang culture and shame.  In 2017 Campbell brought together his long standing interest in suicide to write a book with Rob Hale entitled Working in the Dark: Understanding the pre-suicide state of mind.
In recent years, the place of self-analysis – practised by both analyst and patient – has grown in significance for Campbell. His paper Self-Reflection and the Development of an Interpretation (2017), describes his use of self-analysis in the course of one session, and the ways in which it helped him to make contact with his patient. Building upon Freud, Campbell considers self-analysis to be the analysis of one's resistance to self-knowledge. In Campbell's view, analysts have long been reluctant to acknowledge that mistakes are inevitable in the analytic process; and yet, by recognising and recovering from mistakes, they can become a valuable clinical tool. Campbell has learned that one can only acquire wisdom through experience; by facing up to mistakes, bearing failures and tolerating uncertainty.
Of great importance to Campbell is engagement with different ideas and schools of thought. He has edited a collection of Glasser's papers, The Core Complex, Violence and Perversion, and has invited 18 colleagues from the three British analytic traditions to write reflections on the papers. This effort to assemble different viewpoints attests to his belief in the value of plurality, which he sees as obliging one to truly learn about the 'other', rather than simply tolerating diversity. In this spirit, he is also part of a group of British and Italian analysts, who have met regularly for twenty years to discuss theory and clinical technique. Campbell has edited a book with Ronny Jaffe, an Italian colleague from Milan, of chapters by their Italian and British colleagues called When the Body Speaks: British and Italian psychoanaltytic papers on the mind and the body, which encompasses the group's diverse theoretical and clinical perspectives. Drawing together several of his major interests, his own paper centres on a young patient who became able to sublimate violent impulses through comic book illustration. In an earlier collaborative effort in 2005 he co-wrote a paper with Finnish analyst Henrik Enckell on metaphor and violence, in which they examined how a breakdown of metaphor – a failure to symbolise – can lead to violent behaviour.
Many analysts have influenced Campbell over the course of his career beginning with his analyst in the United States, Ralph Wadeson, his training analyst in London Aggi Bene, and  Adam Limentani and Pearl King who supervised his IoPA training cases. A broad range of analytic thinkers have made an impact on him starting with Freud and his daughter, then, at various times: Karl Abraham, Wilfred Bion, Christopher Bollas, Ron Britton, Patrick Casement, Janine Chasseguet-Smirgel, Sira Dermen, Henrik Enckell, Michael Feldman, Edward Glover, Rob Hale, Roger Kennedy, Melanie Klein, Gregorio Kohon, Moses and Egle Laufer, Tom Ogden, Michael Parsons, Rosine Perelberg, Wilhelm Reich, Priscilla Roth, Joe and Anne-Marie Sandler, Ignês Sodré, Elizabeth Spillius, John Steiner, Robert Stoller and David Tuckett.  Consistently open to other ways of observing and thinking, Campbell makes use of whatever rings true; whatever adds to his understanding, resources and capacity as a psychoanalyst.
Key Publications
Campbell, D. (2020) The Core Complex, Violence and Perverse Solutions: Mervin Glasser's contributions to psychoanalysis. London: Routledge (In Press).
Campbell, D & Jaffe. R. (2020) When the Body Speaks: British and Italian psychoanalytic papers on the mind and the body. London: Rutledge. (In Press).
Campbell, D. (2017) Self-analysis and the development of an interpretation. Int. J. Psychoanal. 98:1275-1289.
Campbell, D. and Hale, R. (2017) Working in the Dark: Understanding the Pre-Suicide State of Mind. London: Routledge.
Campbell, D. (2016) The body and sublimation in a violent male offender. J. Child Psychotherapy, 42(3):285-301.
Campbell, D. (2014) Debt, shame and violence in adolescence: Reactions to the absent father in the film Bullet Boy. Int. J Psychoanal. 95: 1011-1020.
Campbell, D. (2008) The shame shield in child sexual abuse. In Shame and Sexuality, Ed. Pajaczkowska, D & Ward, I. London: Routledge, pp. 75-91.
Campbell, D. & Enckell, H. (2005) Metaphor and the violent act. Int. J. Psychoanal, 86(3): 801-823.
Campbell, D. (2003) Dario Argento's Phemonena (1985): A psychoanalytic perspective on the horror film genre and adolescent development. In The Couch and the Silver Screen: Psychoanalytic reflections on European cinema. Ed. Sabbadini, A. Hove & New York: Brunner & Routledge. pp. 128-138.
Campbell, D. (1995) The role of the father in a pre-suicide state. Int. J. Psychoanal. 76:315-323.
December 2020