The International Journal of Psychoanalysis was founded by Ernest Jones with the collaboration of Sigmund Freud in 1920. It also incorporates the International Review of Psycho-Analysis, founded in 1974 by Joseph Sandler. For the last 95 years the IJP has enjoyed its role as the main international vehicle for communication about psychoanalysis, enjoying a wide international readership from Europe, the Middle East, Africa, Asia-Pacific, North America and Latin America. Past Editors of the International Journal have included Ernest Jones, James Strachey, Joseph Sandler, and David Tuckett. In 2015 the IJP had around 9000 subscribers.
Dana Birksted-Breen is the current Editor in Chief of The International Journal of Psychoanalysis (www.theijp.org). In 2012, she integrated the four regional boards into one large Editorial Board currently composed of over 100 members. There are five Associate Editors from four different geographic regions: Alessandra Lemma (UK), Jorge Canestri (Europe), Lucy LaFarge (North America), Beatriz de Leon (Latin America), Georg Bruns (representing no region); an Executive Editor, Gráinne Lucey (London); and Editors of specific sections, such as Education, The Analyst at Work, Psychoanalytic Controversies, Book Reviews, and Film Essays.
In recent years, the IJP has worked to strengthen dialogues between different psychoanalytic cultures. 2015 saw the launch of the Spanish edition of the journal - IJP en español (www.theijp.org/en-espanol). In 2013 the Journal established the online open peer review, multi-language site IJP-Open (www.ijp-open.org). With the IJP Annuals (www.theijp.org/annuals), each year papers from the Journal are selected and translated into nine different languages: French, German, Italian, Portuguese, Russian, Greek, Turkish, Romanian and Chinese.
Dr Dana Birksted-Breen - Editor in Chief of The International Journal of Psychoanalysis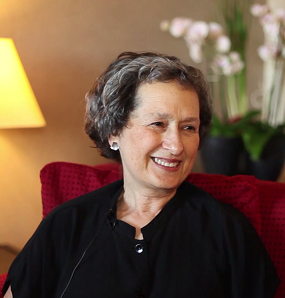 Dr Dana Birksted-Breen, L-ès-L, D.Phil., is a training and supervising psychoanalyst of the British Psychoanalytical Society, working in private practice. She lectures, leads workshops, and supervises internationally. She won an international prize for her paper 'Phallus, Penis and Mental Space'. Her books include: The Birth of a First Child, Tavistock Publications; The Gender Conundrum, New Library of Psychoanalysis, Routledge; a co-edited book Reading French Psychoanalysis, New Library of Psychoanalysis, Routledge; The Work of Psychoanalysis: Time, Sexuality and the Psychoanalytic Mind, New Library of Psychoanalysis, Routledge (www.tandf.net/books/details/9781138963405).She is the former General Editor of the New Library of Psychoanalysis.