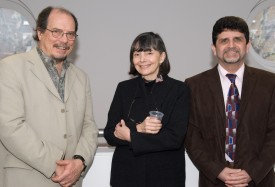 Gregorio Kohon is a Training and Supervising Analyst of the British Psycho-Analytical Society.
Having moved from Argentina to London in 1970 to study and work with R. D. Laing and his colleagues from the anti-psychiatry movement, from 1973 onwards Kohon had the opportunity to give lectures in Spain on related subjects, amongst them institutional psychiatry and anti-psychiatry; the treatment of schizophrenic patients in therapeutic communities, and so forth. Afterwards, once trained as a psychoanalyst in the BPAS, he continued to lecture at the Escuela de Psicoanálisis de Barcelona.                                                                                                                               
During the 1980s Kohon lectured, gave clinical seminars and offered private supervisions across a range of European countries including Denmark, Italy, Poland, Spain, and Sweden. He also worked extensively in the United States.
In 1988, Gregorio Kohon and his wife, Valli Shaio Kohon, moved to Brisbane, Australia. In the context of a rather reactionary culture, which was anti-intellectual and anti-psychoanalysis, they founded The Brisbane Centre for Psychoanalytic Studies in 1988. It offered seminars and courses to anybody interested in psychoanalytic ideas. From 1988 until 1994, Kohon taught seminars on Reading Freud; Assessment for psychotherapy, and many other subjects. He also lectured, conducted clinical seminars and offered individual and group supervisions all around Australia and New Zealand. As convenor, Kohon organised three major conferences: Psychoanalysis, Literature and the Arts (1990); Psychoanalysis, Perversions and the Cinema (1991); and Psychoanalysis, Madness and the Theatre (1993), also participating as a contributor and discussant.
Upon his return to London in 1995, Kohon continued to lecture, present papers and teach around the world: Argentina, Australia, Cuba, Denmark, France, Italy, Peru, Portugal, Spain, Sweden, and the United States
His main international participations included papers on the treatment of psychotic patients, the position of women in psychoanalysis, the Independent tradition, hysteria, fetishism, the question of creativity, philicide, transference and countertransference, and the psychoanalytic treatment of borderline patients. Between 2000 and 2003, Kohon was part of an international conceptual research group on borderline phenomena, organised by André Green under the auspices of the IPA.