​Join us for a programme of screenings and discussions directed by Andrea Sabbadini, a psychoanalyst who has published widely on the connections between the couch and screen. 
Whether you're interested in the latest European cinema or the connections between theatre, film and psychoanalytic thinking, there's plenty for you on our programme.
---
Framed Lives

Framed Lives is a long-term programme of film screenings and discussions. Each series features four biographical films/documentaries about famous individuals within a specific field. Screenings are followed by brief presentations by psychoanalysts, film scholars and other experts, leaving plenty of time for discussion from the floor.
Location: The Institute of Contemporary Arts (ICA), The Mall, London SW1Y 5AH
Click here to view the programme and book tickets.
---
epff9 tickets on sale now!
Our biennial European Psychoanalytic Film Festival, held at BAFTA in London, showcases the best in contemporary European cinema and attracts psychoanalysts, filmmakers, scholars and guests from around the world.
Following the success of epff8, we are delighted to announce that we will be holding a 9th European Psychoanalytic Film Festival from 2 - 5 November at BAFTA. The event, directed by Andrea Sabbadini, will feature screenings from the best of contemporary European cinema and discussions with leading psychoanalysts, filmmakers and film scholars. The theme for epff9 is Interiors/ Exteriors.
Further information about the event and tickets are available at: http://www.psychoanalysis.org.uk/events
To learn more about epff, click here.
---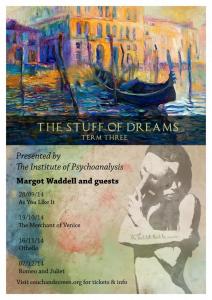 The Stuff of Dreams
In 2015 we ran our hugely successful series 'The Stuff of Dreams: Shakespeare on the Screen' at the Institute of Contemporary Arts.
Chaired by Andrea, the events feature a film adaptation of Shakespeare's work, followed by a discussion between an analyst and actor, critic or scholar.
Previous screenings included Kurosawa's Throne of Blood and Luhrmann's Romeo & Juliet, and speakers such as Rory Kinnear and Max Stafford-Clark.
To find out more about our next Stuff of Dreams programme, visit our page here.
​